Traditional Upholstery for a Modern World
If you imagine your chair as a person, the frame is its bones, the upholstery its flesh and the fabric its skin.  The upholstery gives the shape, structure and padding and usually consists of some or all of webbing, springs, hessian, animal hair, wadding and calico.  The seat is most likely to show the strain of years of use and sometimes this is all that needs reupholstering with the rest of the chair just needing a little love before recovering.
The process involves removing the current fabric, some or all of the upholstery and as many fixings as possible.  You would be surprised how much metal (in the form of tacks or staples) can be found in the frame.  Any repairs needed on the frame are carried out at this stage then reupholstery can begin.
Please see the "Traditional Upholstery" page for an example of the work in progress.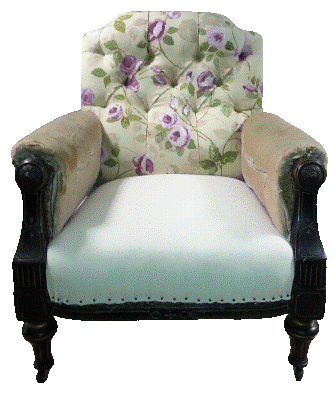 If your upholstery is in good condition but the top fabric is faded, worn, dated or damaged then recovering is for you.
The process involves the careful removal of the old fabric and fixings. This should reveal the chair in its "underwear" of calico.  Quite often this is not the case so an initial covering of calico is needed to ensure the upholstery all stays in places during the work.  This is also the time to make good if any extra padding is needed.
Next a layer of wadding will be added to give your new fabric the best possible finish, followed by the fabric itself with piped and hand stitched seams.
If you need a brand new cushion or replacement inners and / or covers, whether it be for your sofa, your conservatory furniture, a window seat or as scatter cushions, I can help.
© 2018 Stuffing and Springs